Since flights can represent the biggest part of your trip expenses, finding that hidden cheap deal can be just as important as finding the right destination, the right tour company, or the right place to stay. After all, if a flight is too expensive, you aren't going anywhere and today I am going to help you master how to find a cheap flight. These are the exact steps I follow. If you follow them too, you'll never be the person on a flight who paid the most for their ticket!
11 Steps on How to Get Cheap Flights
Ignore the myths –There are many myths online about finding cheap flights. They will lead you astray. The first thing to know about finding a cheap flight is there is no magic bullet. Let me first say: it is NOT cheaper to buy airfare on a Tuesday, there is NO evidence that searching incognito leads to cheaper deals, and there is NO exact date or specific time period in which to book your airfare.
Be flexible with your travel dates and times -Airline ticket prices vary depending on the day of the week, time of year, and upcoming holidays, such as Christmas, New Year's Eve, Thanksgiving, or the Fourth of July. August is a big month for traveling around Europe and everyone wants to go somewhere warm in the winter or travel when the kids are out of school.
If you are going to fly when everyone is flying, then you're going to pay higher fares. Try to be flexible with your dates.
It's always cheaper to fly during the middle of the week than on a weekend, because most people travel on the weekends and airlines hike their prices then. Prices are also cheaper if you fly after a major holiday. Early-morning or late-night flights are cheaper because fewer people want to travel then (who wants to wake up early?!). You'll save the most money if you fly when no one else is flying. You may have always longed for Paris in the summer but so has everyone else and the airlines price accordingly. They know when a festival, holiday, major sports event, or school break is coming up. They aren't dumb and they raises prices accordingly. Be flexible when you fly and you'll start way ahead of everyone else!
Be flexible with your destinations -If you can't be flexible whenyou fly, at least be flexible with whereyou fly. It's best to be both, but if you really want to save the most money on a flight, you should at least do one! Airline search engines have made it really easy to search the entire world to find the cheapest ticket you no longer have to search manually. Kayak offers the "Explore" tool that allows you to put in your home airport and see a map of the world with all the flights on it; Google Flights also has a similar (and better) feature. If you are flexible with where you want to go (i.e., anywhere but home), these are wonderful tools to start your planning with. It looks like this:
Step 1: Go to Google Flights and click the map: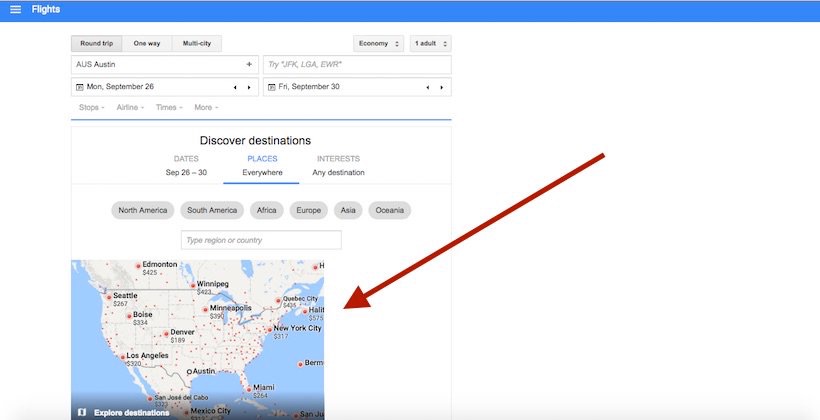 Step 2: Put in your dates and home airport and enjoy all your options! ?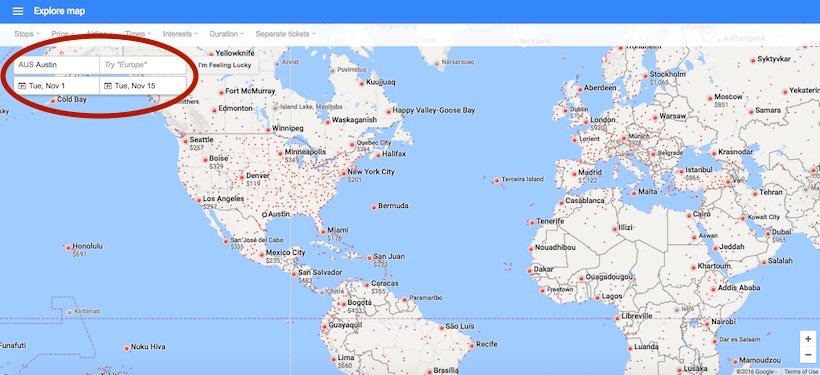 The truth about airfare is that there's always a deal to some destination, and if you're flexible on where you want to go, you'll be able to find and use that deal.
When you are locked into one place at one time, you are stuck with whatever price shows up. BUT when you become flexible, suddenly the entire world opens up to you and you'll find amazing cheap airfare!
Don't always fly direct -Not only does it help to be flexible with dates and destinations but try being flexible with the route you take, too.Sometimes it's cheaper to fly to London and take a budget airline to Amsterdam than to fly direct to Amsterdam. There are so many budget carriers around the world that taking advantage of a good deal to another city and then hopping on a budget flight to your destination is sometimes the best way to go.
Remember, all search engines aren't equal –It's important to check a few sites before you book, as you'll often see variations in prices, and you don't want to miss a deal. The best search engines are the ones that have no affiliation with any airline and make their money via advertising, not bookings.
My favorites are:
Momondo
Google Flights (This is also the best site for searching multiple cities)
ITA Matrix
Skyscanner
Kayak
Take advantage of student discounts -If you are a student (or under 26), there are many, many discounts available to you. There are a lot of student discount codes out there, and travel agencies like STA Travel or Flight Centre can help find you a cheap ticket.
Sign up for a frequent flier program and travel hack – Airline reward programs are a great way to get free flights, free upgrades, and free companion tickets. No matter how often you fly, you should be signed up for the airline's reward program. Moreover, by collecting points and miles (the art of "travel hacking"), you can travel around the world for very little (and often free). These programs are easy to use, and there are a lot of other ways to earn miles if you aren't jet-setting around the world all the time.
Watch for special offers— I sign up for company newsletters because they often have featured offers not found on an airline's website. American Airlines once gave away 1,000 points for installing a shopping toolbar into your web browser. These bonuses don't go into the high tens of thousands, but you can get something over a long period of time by doing virtually nothing. They do add up.
Get a travel rewards credit cards –By getting a travel rewards credit card (like an airline-branded card or a general points card, such as Chase Sapphire), you can earn miles and perks, like free baggage checks and priority boarding. Moreover, these cards come with huge sign-up bonuses (whether you are American or live in another country, they all do!) that often equal one free round-trip flight!
In the movie Up in the Air, George Clooney's character said, "I don't do anything if it doesn't benefit my miles account." Think like that.
Join a mailing list – There are some good reasons to sign up for your favorite airline's promotional newsletters, including early notification of flight sales, contests, and deals. Plus, airlines will frequently give you miles in exchange for letting them clutter your inbox with digital newsletters. Southwest currently offers 500 points to those who subscribe to their email list.. These three websites are the best to stay on top of travel deals:
Airfarewatchdog
The Flight Deal
Holiday Pirates
Search ticket prices as one person –Don't search for or buy multiple tickets in a single purchase. Airlines always show the highest ticket price in a group of tickets. For example, if you are a family of four and searching for four seats, the airline will find four seats together and show your fare based on the highest ticket price. So if seat A is $200, seats B and C are $300, and seat D is $400, it will price those tickets as $400 each instead of adding up the individual ticket prices. Therefore, always search for tickets as a single person. Afterwards, in the checkout process, you can pick your seats so you and your family are sitting together.
10. Know your price -People always try to get the lowest price online, wait too long (or book too early), and then pay too much. We all know airline prices always bounce up and down, yet in our quest to hold out just a little longer, most of us miss the lowest price. Therefore, it's important to know what you want to pay, not what you hope to pay. What's the lowest price for YOU? What do you feel comfortable paying? Don't wait for the perfect price — wait for YOUR price. Be realistic too. If the lowest available price is $1,000 for a flight but the average is $1,500, don't try to wait for $900, as it's probably not going to get that low. You will never have buyer's remorse if you find a price point you are comfortable with. No two people on a flight pay the same price, so all you can do is hope you get the price you feel good about.
Book early, but not too early -Airline fares will keep rising, but there is a sweet spot when the airlines begin to either lower or increase fares based on demand. Don't wait until the last second but don't book far, far in advance either. The best booking window is 6–8 weeks before your flight, or around three months before if you are going to your destination during peak season.
Finding a cheap flight is about being flexible and smart in where you go, when you go, and how you get there. I hope these tips were helpful.
                                                                                                                                     By Lula Defersha